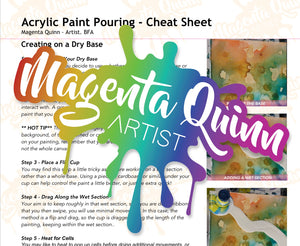 Magenta Quinn - Artist
Digital Download - Extreme Cheat Sheet - Dry Base
Regular price
$2.00
Sale price
$6.50
Unit price
per
This Digital Download is a step by step cheat sheet for the extreme Acrylic Paint Pouring method of working with a premade and then let Dry Base.
Of the over 100 named methods these days, I have grouped these into Basic, Advanced and Extreme, according to both the methodology itself, as well as the additional costs that may be involved in order to achieve results.
For the Basic methods, generally speaking you need paint, a medium, cups to mix into and to pour with, stirring sticks, something to pour onto and something to pout into that can catch drips and excess paint.

For the Advanced methods, you need what you would use in the basic methods, plus Additives (also known as cell activators), heat, spinners, a variety of paints, inks, mica powders and so on.
For the Extreme methods, this is usually to do with highly technical methods, or items for embellishing after the pour, which could be paint pens, stencils, textural work, temporary tattoos, mixed media and more.
---
Share this Product
---